Michele Sadauskas – Oneida County Conservationist
Michele Sadauskas is the County Conservationist for Oneida County, Wisconsin.  Oneida County has over 68,000 acres of lakes and rivers, and has one of the highest concentrations of natural lakes in the world!  Since joining the Oneida County Land & Water Conservation Department in 2011, Michele has increased summer personnel, monitoring hours, and youth education for Oneida County.  Michele especially enjoys developing projects that incorporate regional partners, unique methods, and students. Sadauskas grew up on Pioneer Creek in Conover, WI and has a passionate relationship with the water resources of the Northwoods.  She graduated from UW-Stevens Point with majors in forest management and biology, focusing her studies on plant ecology.  Michele enjoys growing peppers, night photography, and is an advocate for pit bulls.  She is the proud owner of two rescue pit bull mixes named Tsuga and Piglet.
---
Stephanie Boismenue – Aquatic Invasive Species Coordinator
​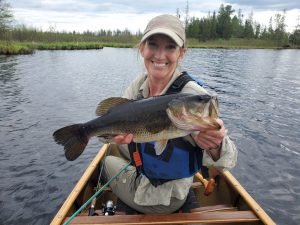 Stephanie Boismenue is the Aquatic Invasive Species (AIS) Coordinator for Oneida County, Wisconsin. She joined the Oneida County Land & Water Conservation Department in April 2014 and shares over a decade of AIS knowledge and lifelong passion to protect our water-rich county. Stephanie has worked extensively in the field with lake-wide AIS early detection monitoring, AIS management and control including EWM hand harvesting, AIS biocontrol, water quality monitoring, physical and biological lake data management, aquatic plant and habitat inventory, mapping, restoring areas degraded by AIS, and lakeshore habitat restoration.
Stephanie provides AIS education and outreach to the public and works closely with lake associations and partners on a comprehensive AIS program to protect the water-rich county's natural resources, fisheries, recreational opportunities, health, and near shore property values from AIS. She provides volunteer recruitment, training, coordination, and technical assistance for Clean Boats Clean Waters, Citizen Lakes Monitoring Network, AIS early detection, rapid response, control and management, AIS mapping, field data collection and analysis, purple loosestrife bio-control, site restoration, EWM hand harvesting, sustainable land and water conservation practices, Adopt-A-Lakeshore programs, and AIS and environmental programs geared for youth, schools, and adults.
Her passion for protecting the environment is influenced by personal relevance from lifetime of exploring wild places in Northern Wisconsin, Northern Ontario, and Lake Superior's shoreline. She is the mother of a sweet senior Golden Retriever, Sophia.
---
Aubrey Nycz – Oneida County Aquatic Invasive Species Lead Project Assistant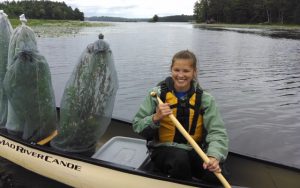 Aubrey is excited to be returning for her fifth year on the AIS team to help with outreach programs, Clean Boats Clean Waters, lake monitoring, and AIS management. Having lived in Northern Wisconsin all of her life, Aubrey has seen firsthand the negative effects that AIS can have on local waterbodies. For this reason, she hopes to share her passion and knowledge about invasive species with community members, in order to stop the spread of unwanted invaders. Aubrey earned her Bachelor's degree from the University of Wisconsin – Stevens Point in Elementary Education. Her goal as an educator is to inspire her students to become lifelong learners who strive to make a difference in the world around them. During her free time, Aubrey enjoys boating, swimming, and fishing with family and friends.
---
Rachel Cook – Oneida County Aquatic Invasive Species Project Assistant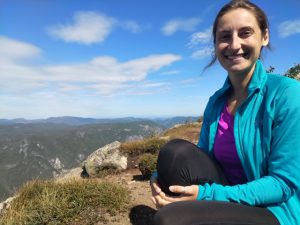 Rachel has spent many years coming to the north woods with her family. She enjoys exploring the vast outdoors while fishing, camping, kayaking, and biking in summers as well as snowmobiling, snowshoeing and cross-country skiing in winters. Rachel earned her Bachelor's degree in Biology, Biochemistry, and French from UW-Stevens Point. She credits her appreciation for natural processes and passion for ecological studies to her time at UW-Stevens Point, where the students are surrounded by opportunities for sustainable practices and environmental education. She is currently working on her master's thesis at UW-Milwaukee, where she studies ecological genetics. Rachel is happy to spend the summer with the Oneida County AIS team, spreading awareness about the importance of protecting our beautiful ecosystems.
---
Contact Information
Oneida County Land & Water Conservation Department
Oneida County Courthouse
2nd Floor
1 South Oneida
PO Box 400
Rhinelander, WI 54501
Office Phone: 715-369-7835
Fax: 715-369-6268